History Storytime for children told by 7 year old Sophie, 5 year old Ellie and their Daddy. Exciting history stories of Knights, Tudors, Romans, World Wars, Revolutions, Explorers, Scientists and Sports. Hear amazing history stories of animals, stirring historical stories of love and betrayal, and of strong women and how they changed history. Real life narrative history as it should be told. Won Silver in the BritPodAwards. Helps support learning history for the National Curriculum with Key Stage 1 (KS1) and Key Stage 2 (KS2) and for all Elementary ages - Grades K-5. Great for supporting parents with homeschooling. Valued by teachers, enjoyed by parents, loved by kids.
Episodes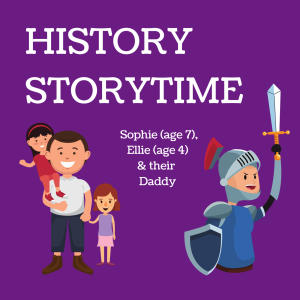 Monday Nov 22, 2021
Monday Nov 22, 2021
Sophie (age 8) and Ellie (age 6) have been learning about Climate Change at school as part of the COP conference. They have made a podcast about the history of pollution and saving the planet.
Our story starts 800 years ago. Edward I was King of England. Coal was discovered in Newcastle and many London homes started using it to keep their houses warm. However, it made the city very smokey. The King's mother thought it was so smokey that she left the town. The King decided to act. He banned people from using coal for their fires to try to make the air cleaner. However, people just ignored him. Then a later King, Richard II, decided that it he could get rich from taxing coal. He didn't care about the air, he thought it was a way to get rich.


As more and more people went to live in the cities, they realized that they started to have problems with poo and with clean water. There was nowhere to put the rubbish so people threw the rubbish and the poo onto the streets. There was no way to get proper clean water to drink either. So people got ill and often died. It was decided to build proper sewers to take the poo away and proper pipes and taps for clean water. This made everywhere a lot cleaner and saved many lives.


Meanwhile, there were factories being built in the cities. These factories used coal – and people were still using coal to warm their houses. The smoke from the coal got worse and worse. It started to cause something called fog. This is where smoke and fog mix up. Its poisonous to breathe. One summer in London, 70 years ago, there was a terrible smog in London. The air turned green. Thousands died. It was decided to stop using coal in cities to save lives.


However, not all pollution is visible. 40 years ago the world realized that there was a hole in the Ozone layer. The Ozone layer is an invisible shield around our planet which protects us from harmful rays from the sun. However, some chemicals were destroying the ozone layer. Those chemicals were banned and the ozone layer started to repair itself. This was an example of the world working together to help fix pollution.


More recently, people have learned that all the coal and oil that we have been burning has meant that the planet's climate has been changing, in particular, it has been getting hotter. The coal and oil have helped countries get richer and they have been able to use that money on good things like medicines. However, the pollution is not good and the whole world wants to find someway to stop it.


At the end of the episode, Ellie and Sophie reflect on how in human history, humans have often managed to fix pollution problems when they have tried their hardest and work together. They also reflect on how we only have one planet and we need to look after it.


We also have a poster that the girls designed for the COP summit. You can see it on twitter (@historytime99) or on Instagram (@history_storytime). Please give it a "like"!


Patrons' Club
If you liked this episode you might like to join our Patrons' Club. You can join at www.patreon.com/historystorytime.
Comments
(1)
To leave or reply to comments, please download free Podbean or