History Storytime for children told by 7 year old Sophie, 5 year old Ellie and their Daddy. Exciting history stories of Knights, Tudors, Romans, World Wars, Revolutions, Explorers, Scientists and Sports. Hear amazing history stories of animals, stirring historical stories of love and betrayal, and of strong women and how they changed history. Real life narrative history as it should be told. Won Silver in the BritPodAwards. Helps support learning history for the National Curriculum with Key Stage 1 (KS1) and Key Stage 2 (KS2) and for all Elementary ages - Grades K-5. Great for supporting parents with homeschooling. Valued by teachers, enjoyed by parents, loved by kids.
Episodes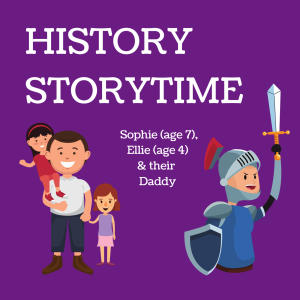 Monday Nov 08, 2021
Monday Nov 08, 2021
Sophie (age 8) and Ellie (age 6) tell the story of the Tomb of the Unknown Warrior in the week of Armistice Day and Remembrance Sunday.
World War One had been a terrible war. Millions had been killed by machine guns and explosions. The fighting was so terrible that many of the bodies were never found. Back in Britain that meant is was difficult for people to properly grieve.


It was decided to bury one unknown soldier in Britain to represent everyone who had died. That way everyone would have a place to go and to mourn.


Four unknown soldiers were dug up from their graves in France. A British general randomly chose one of the bodies. The other three were reburied. The body was placed in a coffin of wood from Hampton Court Palace and a crusader sword placed on top. The chosen body was taken in a coffin to a French castle overnight. A brave French regiment guarded the body. Then it was taken to the port. A thousand French school children led the way, followed by the coffin and then 10,000 French soldiers.


The most important French general was waiting. He saluted the coffin as it was placed on a French warship.


The coffin was escorted to Britain by warships and saluted as it arrived. In London it was taken past crowds of people watching in silence.


At Westminster Abbey the King and his government were there. So were 100 women who had lost their husbands and all their children in the war. Also 100 of the bravest soldiers in Britain. They buried the body and wrote an inscription on a marble gravestone saying how they felt about him and what he represented.


The next year the future Queen of Great Britain was getting married in the Abbey. Her brother had been killed in the war. His body had never been found. As she was leaving the Abbey, the princess bent down and placed her bouquet on the Tomb. Ever since then, Royal princesses have left their bouquets by the tomb of the unknown soldier.


Other countries also have their own Tomb of the Unknown Warrior or Soldiers to commemorate soldiers from World War One and other wars.


PATRONS' CLUB


If you liked this episode you might like to join our Patrons' Club. We have exclusive episodes there. This includes a new episode all about the American Tomb of the Unknown Soldier. You can join at www.patreon.com/historystorytime